We collect, buy and sell Harness Racing Memorabilia through E-Bay and through private sale. If you have any questions, interested in buying/selling memorabilia, click on our "Contact Us" page to get in touch with us.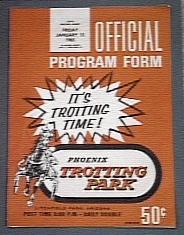 Program from the ill-fated and short-lived Phoenix Trotting Park... Built in 1964, racing lasted for approx. 2 1/2 years.
Harness Hero Cards - Quality cards available through Harness Horse Youth Foundation. Original 1991 set is becoming difficult to find and valuable.