1. GREYHOUND
2. NIATROSS
3. SHADY DAISY
4. MONI MAKER
5. LAAG
6. LOTTO S COLLINS
7. JET LAAG
8. CANACO ENGINE
9. TROY D
10. HANKO ANGUS

* * * * * * * * * * * * * * * * *

Other Favorites (We Pay Tribute To):
BAYS FELLA, SPARKLING HOOKER, NORTHWOOD ROY, STAGE DOOR STEVIE, MESSENGER, DAN PATCH, MAUD S, STAR POINTER, AMERICAN WINNER, HY CLASS MINBAR, MIDNIGHT OCCASION, STYLE BYRD, FINLUS FROST, HAMBLETONIAN, GUY McKINNEY, SHIAWAY ST. PAT, WESTGATE CROWN, MALABAR MAN, V TWELVE, GEE GEE DIGGER, GETTING PERSONAL, DANGER OF FIRE, WHITE RUFFLES, CR KAY SUZIE, JENNAS BEACH BOY, NIHIlATOR, RAMBLING WILLIE, CALL FOR RAIN, RIYADH, HOT LEAD, JACSUE BROOKS, MON AMI JOE, MATT RUSSIAN, GREAT LOOKING GREY, DOUBLE GREY, SAKRA MANIA, DARTH RAIDER, DUST DEVIL, CYUNS LATER, ADIOS, BRET HANOVER, ADIOS HARRY, ARNDON, NUTWOOD N, FALCON SEELSTER, ARTSPLACE, GALLERIA, TOWNERS IMAGE, SHES A GREAT LADY, PEARL RIVER MATT, TUNE TOWN, FAN HANOVER, DANGER OF FIRE, NOBLE ABILITY, JULES JODOIN, JMFS PETER, LV WHISKERS .... and all the cheaper claimers and n/w 1 that give their all and whom we sometimes take for granted!
and...all the horses who perished in the barn fires at Gaitway Farm and at the Meadows

ALSO............something we beleive in.......

A HORSE'S PRAYER

Feed me, water and care for me,
and when the day's work is done,
provide me with a shelter,
a clean dry stall large enough
for me to lie down in comfort.
Talk to me, your voice often means
as much to me as the reins.
Pet me sometime that I may serve you
more gladly and learn to love you.
Shoe me properly that I may
serve you in comfort.

Never strike, beat, or kick me
when I don't understand what you want,
but give me the chance to understand you.
And finally oh master,
when my youthful strength is gone
do not turn me out to starve or freeze,
or sell me to some cruel owner
to be slowly tortured or stoned to death,
but do thou, my master,
take my life in the kindest way, and
your God will reward you here and hereafter.

You will not consider me irreverent if I ask this
in the name of Him who was born in a stable...

Amen...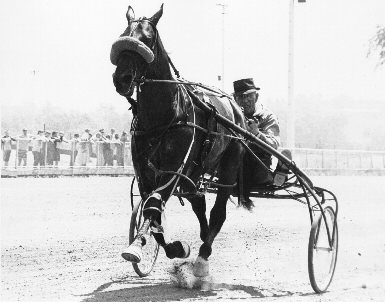 BRET HANOVER with Frank Ervin train on the Vernon Downs "old" 3/4 mile surface
The "King of Trotters" GREYHOUND at Goshen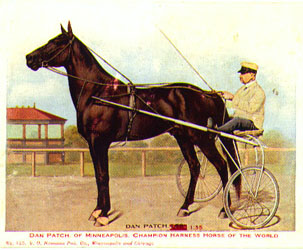 The "King of Pacers" DAN PATCH
The "Living Legend" STANLEY DANCER and NEVELE PRIDE on the cover of Sports Illustrated